Tamiya - King Yellow 6X6 (G6-01 Chassis) Kit
SKU: TAM58653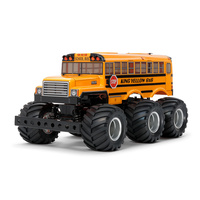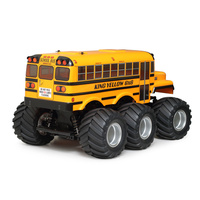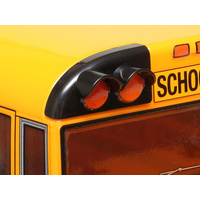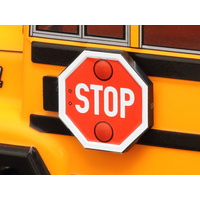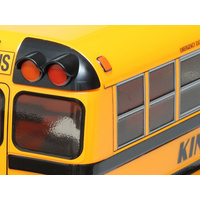 ---
King of the School Route
Who wouldn't be thrilled about going to school if you could get driven there on a beast like the school bus-inspired King Yellow? This is an R/C model assembly kit which includes a body molded in lightweight yet durable polycarbonate, and great realism thanks to the inclusion of separate parts recreating details such as roof lights and stop sign. The kit also includes stickers for decoration, and masking stickers to help with the paint job. Matte silver color plated deep rim wheels are paired with 113mm diameter tires for great off-road performance.
Fun, Innovative & Great Performance!
The fun G6-01 chassis is based around a tough, slimline monocoque frame and offers excellent off-road performance thanks to a 6-wheel drive system. Power is provided by a motor behind the front wheels, and transmitted to front, center and rear wheels via gears. The gearbox is sealed to protect from dust and debris, and integrated into the frame; it has built-in front, center and rear differential gears to provide smooth cornering. 6-wheel double wishbone suspension is fitted with friction dampers. A 2-piece steering tie-rod setup utilizes the servo on the left for excellent response. With suspension reassembly and a separately-sold transmitter with 4WS function and R/C equipment, the rear wheels can be made steerable.
Specifications
Length: 478mm, Width: 270mm, Height: 239mm
Wheelbase: 173mm + 126mm
Tread: 200mm (Front, Center and Rear)
Tire Width/Diameter: 68mm/113mm
Monocoque Frame
Gear-Driven 6WD
3-Bevel Differential Gears
2-Piece Steering Tie-Rod
6-Wheel Independent Double Wishbone Suspension
Gear Ratio = 18.03:1
Type 540 Motor
Requires an Electronic Speed Controller (sold separately)
Separately Required Items
2-Channel R/C Unit with ESC
Battery Pack & Charger
Talk to our friendly staff about a custom setup.
Be The First To Review This Product!
Help other Hobby One users shop smarter by writing reviews for products you have purchased.