Tamiya - M4 Sherman DMD W/Option Kit
SKU: TAM56014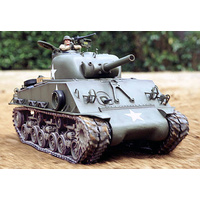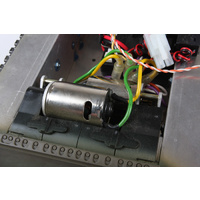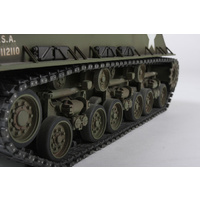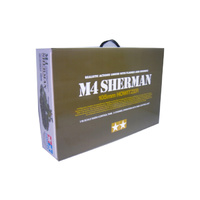 ---
Tamiya really has put all it's efforts into this radio control M4 Sherman tank. Accurate authenticity in scale, body detailing, and working suspension goes are all fantastic features of this model. Acoustic authenticity is also high on the score sheet, through the digitally recorded sounds of a real Continental R975-C4 9-cylinder engine, which roars from the bowls of the tank as it runs. And speaking of the running, you will be able to recreate all the speed and nimbleness of the full-sized M4 Sherman with state-of-the-art R/C technology.
2-Channel R/C System for Complete Range of Movement
1. Forward/reverse over wide range of speed.
2. Gradual turning, pivot turning, super pivot turning.
3. Rotation of turret, raising/lowering of cannon.
4. Illuminating head and taillights.
5. Cannon firing (w/light and sound effects).
6. Machine gun firing (w/light and sound effects).
*For 3-6, tank must be in stopped position.
Roar of the Continental R975-C4 9-cylinder Engine
All the power of the real Continental radial engine can be experienced on Tamiya's new R/C M4 Sherman tank. Listen to the deep start-up sound followed by throaty idling, and then hear the auto-choke activate as the engine kicks over. As you put the tank through its paces, the sound of the engine changes, just like the real M4 Sherman. Firing of the cannon, machine gun, raising/lowering of the cannon, etc.-all the action is linked with sound for an unbelievably realistic tank experience. Suddenly, you are the division commander all the power of the legendary U.S. tank is at your fingertips!
The front-mounted gearbox contains two Type 380 motors that can operate together or individually to produce forward/reverse running and pivot turning. Metal torsion bars and suspension arms combine with the wide tracks to smoothly absorb bumps and dips in the terrain and provide high maneuverability. In addition, realistic engine sounds accompany the tank as it starts up, drives, and stops to idle. Hull-mounted main gun can be elevated, depressed, and swung to the left and right.
Included in this kit is the multifunction sound unit, speed controller, turret rotation motor and gun elevation motor.
This is a kit and requires assembly and additional parts to complete. You will need to add a radio set, battery and charger to complete this kit. Additional upgrade parts are also available.
| | |
| --- | --- |
| SKU | TAM56014 |
| Barcode # | TAM56014 |
| Brand | Tamiya |
Be The First To Review This Product!
Help other Hobby One users shop smarter by writing reviews for products you have purchased.